UNITED VAN LINES – Who Are They?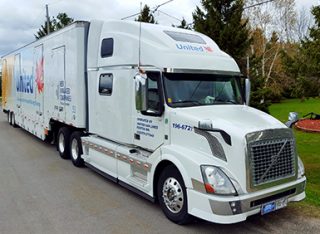 United Van Lines (Canada) Ltd. is a privately held company owned by Canadians. Together, United (UVL) and its team of Member moving companies provide a seamless network to move you anywhere in Canada, the U.S., or around the globe.
ABOUT UNITED (UVL)
In life, few events match the stress of moving. In this busy time of new beginnings and major changes, we appreciate that you place a great deal of trust and responsibility with us. Moving everything you own is a very personal experience and something we don't take lightly… ever.
CANADIAN OWNED
Half a century ago, a few men had a simple dream, to create a Canadian owned van line and stretch it from coast to coast. Today, United is Canada's largest network of moving companies and the only Canadian owned and operated van line. For more than 50 years, we've watched Canada grow and as the roads opened, United was there, moving Canadians where life took them.
THEIR HISTORY – CANADIANS MOVING CANADIANS SINCE 1953
Their roots are deep and strong. UVL is a Canadian organization, owned 100% by its Member Movers and privately held since their founding. Established by a small group of independent professional movers, UVL believed a cooperative ownership was the ideal structure to make long distance moves seamless for you. Today, its mover network of over 125 Members can effortlessly move you anywhere in Canada, the US or the world.  Read the complete history of United Van Lines (Canada).